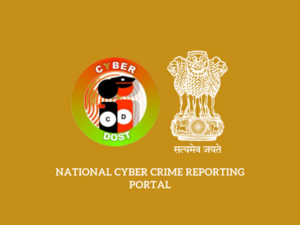 National Cyber Crime Reporting Portal is an initiative of the Government of India to stop and protect from cybercrimes. Cybercrime is defined as "Any unlawful act where a computer or communication device or computer network is used to commit or facilitate the commission of the crime."
The government of India and the state governments have provided a single platform to register complaints about financial fraud, scams, unlawful content, and other cybercrime activities. You can use the online portal to register your issues as soon as possible. Don't wait for the other options.
Notice - Be alert! Don't disclose the financial or banking details and

don't share OTP

with any customer care executive. Protect yourself from

Frauds and Scams

. Report to

Cyber Crime Bureau

or Call 1930 as soon as possible to protect your earnings and others.
---
Cybercrime Complaint Registration Fee & Redressal Time Limit:
| | |
| --- | --- |
| Registration Fee | No Charges (0) |
| Redressal Time | 7 to 30 Working days (Depending on the issue) |
We have provided all the information and procedure in the sections below about the cybercrime reporting portals. You can read all these official instructions and use the helpline numbers, and online complaint portal of cybercrime.
---
Cybercrime Helpline Numbers and Register Online Complaints to National Cyber Crime Reporting Portal
Cybercrime is a defined crime in cyberspace based on security, financial, and other privacy-related threats. To tackle and prevent cybercrimes, the National Cyber Crime Reporting Portal has provided an online portal and helpline numbers where people can file complaints with the required details.
Some common cybercrimes are – Cyber grooming, bullying, and stalking; Online job fraud; Financial frauds and scams; Child pornography/ Child sexually abusive material (CSAM); Online sextortion; Vishing; Sexting; SMSing; Sim swap scams; Debit/ Credit card fraud; Impersonation and identity theft, etc.
Cybercrimes in personal data, the internet, and online computer network based are – Phishing; Spamming; Ransomware; Viruses, worms & trojans; Data breaches; Denial of services/ distributed DOS; Website defacement; Cyber-squatting; Pharming; Crypt jacking; Online drug trafficking; Espionage, etc.
Cyber Police Helpline Number and Links to the Portal to File Online Cybercrime Complaints:
Cybercrime Complaint Numbers
1930
National Police Helpline Number
100
National Women Helpline Number
181
1091
National Emergency Helpline Number
112
Links to Register the Online Cybercrime Complaint:
Also, Click Out: National Emergency Helpline Numbers
Alternative Options:
Procedure to File Cyber Crime Complaint
Step 1: Visit the above link –
Cybercrime Related to Women/Child
Other Cybercrime Complaints (fraud, financial scams, security, and computer network-based).
Step 2: Reporting Cybercrime Complaints Related to Women/Children – You can register complaints anonymously without revealing your identity.
Fill out the details of complaints and incidents.
Select the category of the complaint.
Enter the suspect's details.
Provide all the required information and supportive documents, links, website details, or details of cybercrime.
Finally, submit the online complaint form and use the link to track the status of your complaint using the acknowledgment number.
OR
Step 3: Report Other Cybercrime Complaints – Visit the link and log in (if already have an account) or register as a new user using the given option on the login panel.
Click the 'Report Cyber Crime' from the menu.
Fill out the incident details and category of the complaint.
Provide the suspect details, and complaint details, and finally submit it.
Note down the acknowledgment or reference number to track the status of the complaint.
Note – You can track the status of your cybercrime complaint on the 'Report & Track' link. If the response has not been appropriated, then you may contact the respective "State/UT Nodal Officer or Grievance Officer for Cybercrime" and try to know the reason for the delay.
Cyber Volunteers on National Cybercrime Reporting Portal
Cyber Volunteers are part of the Cyber Crime Volunteer Program where citizens can participate to make cyberspace clean and safe for the welfare of society. Any citizen can register as a Cyber Volunteer on the National Cybercrime Reporting Portal as an individual, group, society, or NGO.
You as a volunteer can play the role of Unlawful Content Flaggers to facilitate law enforcement agencies in identifying, reporting, and removal of illegal or unlawful content.
Volunteers can make people aware of cybercrimes and can also suggest solutions, software, and technical help to make cyberspace more secure and user-friendly. This initiative will help in the prevention, detection, investigation, and prosecution of cybercrimes. You will protect citizens from scams, and cybercrime; Also, it will build some ethical and moral values in society.
Links to Register Online as Cyber Volunteers:
Procedure:
Visit the above link.
Accept the Terms & Conditions and submit it.
Select your state, choose a login id, enter your mobile number, and verify with OTP.
If you already have an account, click on the sign-in button on the registration panel.
Fill out the required personal information.
Upload the identity documents: A national id (Pan card, Voter Id, driving license, or Govt, issued id card) and a passport-size photo.
Finally, verify all the details and submit them.
Login again to track the status of the application.
For more details about Cyber Volunteer, you can visit the website from the above links.
---
Types and Categories of Cybercrime
The list of some unlawful content types and common categories of cybercrimes. You can file complaints about these issues:
CHILD PORNOGRAPHY/ CHILD SEXUALLY ABUSIVE MATERIAL(CSAM)
CYBER BULLYING
CYBER STALKING
CYBER GROOMING
ONLINE FINANCIAL FRAUD
ONLINE JOB AND MATRIMONIAL FRAUD
ONLINE SEXTORTION
VISHING
SEXTING
SMSHING
SIM SWAP SCAM
UNLAWFUL CONTENT
DEBIT/CREDIT CARD FRAUD
IMPERSONATION AND IDENTITY THEFT
PHISHING
SPAMMING
RANSOMWARE
VIRUS, WORMS & TROJANS
DATA BREACH
DENIAL OF SERVICES/ DISTRIBUTED DOS
WEBSITE DEFACEMENT
CYBER-SQUATTING
PHARMING
CRYPTO-JACKING
ONLINE DRUG TRAFFICKING
ESPIONAGE
Click Out: Learn more about Cybercrime
---
References