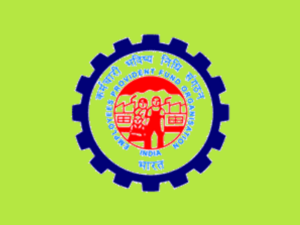 Employees' Provident Fund Organisation (EPFO) is a non-constitutional body for social security, pension contribution, and fund-saving financial services to all salary group employees. EPFO was formed in 1951 and it is governed by the Ministry of Labour and Employment, the government of India.
The schemes mentioned under the EPF & MP Act, 1952 are applicable to EPFO stakeholders – The Employees, Employers, and Pensioners. This organization ensures social security with universal coverage and Nirbadh (uninterrupted) service delivery to the stakeholders and beneficiaries.
Notice - Be alert! Don't disclose the financial or banking details and

don't share OTP

with any customer care executive. Protect yourself from

Frauds and Scams

. Report to

Cyber Crime Bureau

or Call 1930 as soon as possible to protect your earnings and others.
EPFO has developed a fast and efficient financial service delivery system with a transparent, contactless, faceless, and paperless process (e-governance) by using the latest technologies.
If EPFO beneficiaries (Employees, Employers, and Pensions) are facing issues in pension contribution, advance withdrawal, saving of funds, claim, provident fund, interests, and EPFO account issues then you can use the helpline numbers, WhatsApp, E-mail, or online grievance portal to lodge an online complaint to the concerned department of EPFO.
The Rights of the Members, Pensioners, and Employers:
Members: Membership under Provident Fund, Pension, and EDLI schemes; Fast and seamless, and transparent services using mobile number; Online KYC updation; Online correction in demographic data (personal details), file nomination; Claim, Online service assistance (Withdrawal, contribution, savings, etc.); grievance registration (faster resolution).
Pensioners: Issue of pension payment order (PPO) on the day of retirement; monthly pension on time; receive details of pension calculation; online e-passbook update; change pension payment branch, Jeevan Praman Patra;
Employers: Volunteer registration; online services & transaction (faceless); virtual hearing in quasi-judicial cases; demand for – nodal/relationship officers, clarification/guidance related to PF matters; office in charge to resolve any issue.
EPFO members or stakeholders can file complaints on the EPFiGMS (EPF i Grievance Management System) about the provident fund contribution, advanced withdrawal (form 31), pension, or other UAN, Aadhar linking, and online services. You may also use the e-mail, EPFO helpline number (PF), and WhatApp number of regional offices.
Tips – To lodge an online grievance and online PF services, ensure to create UAN (Universal Account Number) link with the Aadhar number, and complete your KYC for seamless and transparent online EPFO services. For pension ensure to update Jeevan Praman Patra every year.
Let us try to find out all the official helpline numbers, e-mails, and WhatsApp numbers of the field offices of EPFO. Follow the instructions, procedure, and right steps to lodge an online grievance on EPiGMS to get faster redressal of your complaint.
---
File Complaint to Employees Provident Fund Organisation (EPFO)
EPFO (Employees' Provident Fund Organisation) has a faceless, transparent, and fast grievance redressal mechanism to resolve the issues of the stakeholders. Members, pensioners, and employers can lodge complaints to EPFO's EPFiGMS portal or can get assistance on the toll-free helpline and complaint numbers, Business WhatsApp Numbers, and even can approach higher authorities by sending an e-mail.
Grievance Registration Fee and Redressal Time by EPFO:
Grievance Registration Fee: ₹0 (No Charges)
Redressal Time: 15 days
To Know More, Click Out: Citizen Charter of EPFO
Members should follow the right approach with level-based steps to file a complaint. First, you should use the toll-free helpline numbers, or contact the regional office to get help or assistance. If your issue or grievance is not resolved then use the online grievance portal, e-mail, or WhatsApp number. Further, approach the higher regional head officers.
All the information is provided in the sections below. Read carefully and use these helplines to get faster redressal of the issue.
---
EPFO Toll-Free Helpline Numbers
The Toll-Free Helpline Numbers and WhatsApp numbers of EPFO are available to provide support and assistance for the online pension, PF withdrawal, and other Provident fund services. You may also register your complaint on these helpline numbers.
Toll-Free Numbers and EPFO Complaint Numbers:
EPFO Regional Office Business WhatsApp Helpline Number:
EPFO members and stakeholders can use these WhatsApp business numbers of the regional EPFO offices of your concerned states. Send a message to get help or raise your concern.
Read More: EPFO (RO) WhatsApp Helpline Number
Tips – After successful registration of your complaint, keep the reference number to track the status of the complaint or can use it for future grievance reference.
---
Register an Online Complaint
The EPF Integrated Grievance Management System (EPFiGMS) is an online grievance registration portal of EPFO where you can visit and fill out the online form to raise your concerns. You may also e-mail your issues. If your grievance is not redressed within 15 days period then send an e-mail to the higher authorities with the reference number.
EPFIGRMS Portal and E-mail to File an Online Complaint:
Note – If your complaint is not resolved within 15 days or unsatisfied with the response, send an e-mail with the reference number of the grievance to:
Steps to File an Online Complaint to EPFO

Visit the link above to file an online complaint.
Select the type of membership status.
Fill out the required information.
Provide brief detail about the grievance related to EPFO services.
Upload the document (If asked)
Submit the online form and note down the reference number.
Note – If your complaint is not resolved within 15 days, e-mail the higher authority or send a reminder. Finally, you may approach the PFRDA Pension Ombudsman to raise your concerns.
---
Online EPFO Services
Stakeholders can use the online services of the EPFO for ease of business and claim in simple steps. You can visit the links below to access some useful services that will save time and surely will benefit you.
Some Important Online Services of EPFO:
Alternative Options:
Note – You may now know the procedure and the authorities whom you can approach if your issues are not resolved. Further, if you are not satisfied then lodge a grievance on CPGRAMS.
Also Read: File an Online Grievance on the CPGRAMS Portal of Central Government
---
Types of Issues:
Non-extension of PF benefit to employees
UAN not allotted
Unable to activate UAN
PF/pension details not available with the beneficiaries
The unified portal not working
The online establishment registration facility not working
Change of mobile number not registering on the unified portal.
Delay/rejection of Claims, benefits, funds, pension, and other issues.
---
References