The Food Safety and Standards Authority of India (FSSAI) is administered by the Ministry of Health & Family Welfare, Government of India. FSSAI provide certificate and issue licences for food articles and food industries. Its standards are based on science and statistical data.

It is established under the Food Safety and Standard Act, 2006 to regulate activities of foods issues and sale, import, food materials, and wholesale food items. It maintains safety standards for foods that are consumed by humans. It checks the contaminants, and biological risks and ensures the standard and quality of the foods that consumers consume. 
Notice - Be alert! Don't disclose the financial or banking details and

don't share OTP

with any customer care executive. Protect yourself from

Frauds and Scams

. Report to

Cyber Crime Bureau

or Call 1930 as soon as possible to protect your earnings and others.
FSSAI Official Details
FSSAI provide general awareness about technical and scientific food safety and their standards should be maintained. If any consumer is affected due to any food that is not as per the standards of FSSAI can register complaints or grievances to its portal.
Let's figure out the procedure and required information to lodge a successful grievance. Consumers from any state, District, City, Town, or Panchayat can register their grievances against the issues in the foods and their concerned products.
Why Complain to FSSAI?
As above, FSSAI provides a licence for food products to the manufacturers, retailers, restaurants, or any food suppliers and checks the health safety standards of food for human consumption. If any contamination or impurities exist in the food items or the below-given list of concerns that are faced by the consumers, anyone can approach FSSAI against the concerned entity.
That is the reason you should lodge a complaint to the FSSAI which is directly administered by the government of India and by the State governments in the concerned states.
So, don't hesitate to lodge grievances against the food service provider or the entity belonging to the below-listed categories. Let's try to know the categories and types of complaints that can be redressed by the FSSAI.
Categories of Complaints
FSSAI has a structural procedure to lodge an online complaint against any food-related issues. If you want to register a grievance then you should know the types and categories in which you can approach the authority. We have listed all these categories so you can check the below list.
Categories of the Complaints to FSSAI:
 Package Foods -Any Concern of Expired Products, Expiry/Best Before Date is Missing, Veg/Non-Veg Logo is Missing, FSSAI Licence/Registration number is not Mentioned, Damaged Puffed Pack, Foreign Material Present, Impurities in the Product, Rotten Product, or Other Complaints. Sub-categories of Package foods:

Dairy Products
Fats & Oils
Edible Ices Including Sorbet
Confectionery
Cereal & Cereal Products
Bakery Products
Meat & Meat Products Including Poultry
Fish & fish Products
Egg & Egg Products
Sweeteners Including Honey
Salt, Spices, Soups, Souce, Salads, Protein Products
Beverages Including Dairy Products
Ready to Eat Savouries
Prepared Foods
Nutraceuticals
Fruit & Vegetables
Others – Grievances that are not mentioned above about the issues of Packaged Foods.

Food Catering Premises – Issues or concerns of Premises are not clear, Rotten Food, Foreign or Impurities are Present in the food, Non-veg Food Served Instead of Veg Food, Pest Activity Observed, Food Handler is not Well (Not Hygiene), Food Handler's Hygiene is not Maintained, Other Premises related to Food Caterings. Sub-Categories of Food Catering Premises:

Restaurant
Canteen
Cafetaria
Dhabas
Cafe
Hostel Mess
Food Trucks
Take-Aways
Hotels
Others – Any complaint that relates to Food Catering Services under FSSAI.

Online Aggregator/E-commerce – Concerns of Rotten Food Items, Foreign Materials, Delivery of Non-Veg Item Instead of Veg Food, Expired product Delivery, Issue with Labeling of Food Products, Damaged/Puffed Package, Delivery Issues, Other concerns about the Online aggregator or e-commerce agency. Sub-categories: 

Prepared Food Delivering Agency
Grocery Delivering Agency
Others – Any Other Grievance Against E-commerce or Online Aggregator about the Food and Groceries.

Retail Premises – Food is Rotten, Foreign or Impurity materials in the Item, Issue with Labeling of Food Item, Food Handler is not well (unhygienic), Damaged/puffed/contaminated product, Pest Activity or Any Chemical Observed, another issue with Retail food provider. Sub-categories of Retail Premises: 

Retail Shops
Milk & Milk Products Retail Shops
Meat & Meat Products (Including Poultry & Fish) Retail Shops
Fruits and Vegetable Retail Shops
Others – Any complaints regarding foods under Retail Premises.

Others – Any issue related to food that comes under FSSAI but is not mentioned here.
You can approach FSSAI for the above-listed concerns and issues. Now, know the customer care helplines and details of the online complaint form. Complaint Hub has varied all the procedures and it is working well. If you will follow the instructions that are given below, your grievance will be surely accepted by the authority.
Procedure to Lodge Grievance to FSSAI
Now, you know why and what type of complaint you can lodge to FSSAI. Maybe, you will eager to know the procedure to lodge your grievances to the concerned authority against one of the above issues. Must be aware of your rights as a consumer or a citizen.
Follow the below procedure with step by step. You can approach the two ways – one by calling on the customer care helpline number of FSSAI, or the second way, you can register an online complaint on the portal of FSSAI.
Let's figure out both methods of grievances.
Call on Customer Care Number of FSSAI
Know, how to register complaints on the toll-free customer care number of FSSAI.
Procedure – Follow the steps and details of FSSAI to get redressal of your grievances on the consumer helplines:
Step 1 – Click on the below customer care number of FSSAI to call directly by your phone.
FSSAI customer care number – 1800112100
E-mail – [email protected]
Step 2 – Select the option to talk with the customer care executive. Now, provide the personal details and the complaints about the food products or entity.
Step 3 – Get the complaint number (Ticket Number) to track your complaint's status. If your grievance is not registered by the executive then you can lodge the online complaint on the portal of FSSAI by following the below steps.
Lodge Online Grievance
Just follow the steps to lodge an online grievance to FSSAI. Every step is brief and easy. As above mentioned, if you will not register complaints against unhealthy or contaminated food, it can lead to deterioration of your health and body. To protect yourself from the above-given concerns, you must approach FSSAI.
Procedure to lodge an online complaint on the FSSAI portal:
Step 1 – Click on the link of the FSSAI consumer grievance portal to register yourself.
Click out – Online FSSAI Consumer Grievance
Step 2 – Click on the button "Proceed with Food-related Grievance"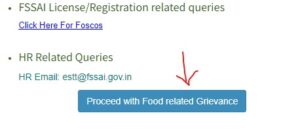 Step 3 – Navigate below the left side, click on the Register in the "consumer" box or if you have an account click login.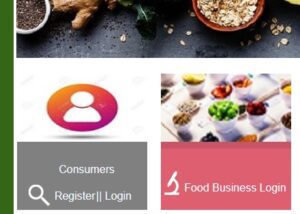 Step 4 – Register – Enter your Mobile Number or E-mail Id to get an OTP. Enter the captcha number from the given image and click on the send otp button.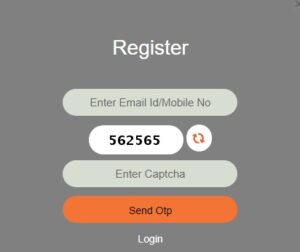 Step 5 – Enter the OTP, Name, Password (Confirm), and click on the "Submit" button.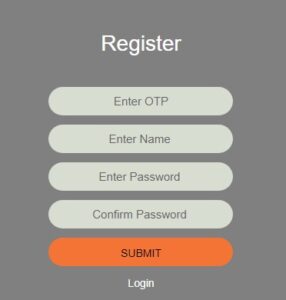 Step 6 – Now, Click on the "Login" Button and Enter your Mobile number or E-mail, Captcha, and click on the Sign-in button.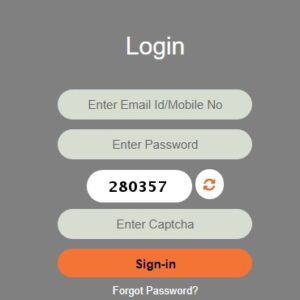 Step 7 – From your profile, click on the "Register New Complaint" from the left menu.

Step 8 – Select the category as you already know from above about the concerned categories of grievances.

Step 9 – Select Sub Category of your issue related to food service that is listed on the FSSAI portal.
Step 10 – Select Food Business Operator (If not listed, Select – Other FBO)
Step 11 – Enter the Products and Complaint Details: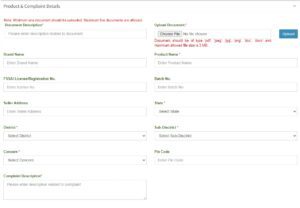 Documents Description – Provide the details of documents/photos of the food products that you are giving as proof in the support of your grievance.
Upload Documents – Upload documents, images of products, Foods Photos, or Package details. (Document format –

PDF, JPEG, JPG, PNG, DOC, and Maximum Size – 3 MB

)
For Package Food Category:
Brand Name (Optional) – Enter the name of the brand of the food product.
Product Name – Provide the name of the food product.
FSSAI License/Registration No. (Optional) – If you have the license number of the product, enter the details (You can find them on the package label of the food product)
Batch No. (Optional) – Enter the Batch Number from the label of your food package/product.
Seller Address (Optional) – Enter the address of the seller from the package label, if it is given.
For Food Catering Premises Category:
Outlet Name – Provide the name of the outlet (Example – Restaurant, or Food serving entity name)
FSSAI License/Registration No. (Optional) – Enter the FSSAI License or registration number of the Food catering premises (You can check in the bill of the concerned food distributor)
Bill No (Optional) – If you have a bill, enter the bill number of your ordered food.
Outlet Address (Optional) – Enter the address of the outlet or food premise.
For Online Aggregator/E-commerce (Food Delivery) Category:
Delivery Agency Name – Enter the name of the Delivery Agency (Food or Grocery Delivery).
Product Name/Restaurant Name – Provide the name of the food product and the restaurant name of the product bought or delivered.
FSSAI License/Registration Number (Optional) – Enter the FSSAI license number of the Online Food Aggregator or Food delivery agency (E-commerce).
Order No. (Optional) – Enter your online order number of the food product from your bill or concerned delivery app.
For Retail Premises Category:
FSSAI License/Registration No (Optional) – Enter the number of the FSSAI License or Registration number of the Retail premises from the label of the package, bill, or website.
Batch No (Optional – Enter the Batch number of the Retail premises.
Outlet Address (Optional) – Enter the Address of the Retail agency (If Available).
Enter Address and Complaint Description:
Select State, District, Sub-district – The Address where you have bought a product or used it.
Concern – Select the issues of the Packaged Foods, Food Catering Premises, Online Aggregator/e-commerce, Retail Premises, or Others
Pin Code (Optional) – Enter the Pin Code of the Address that you have given.
Complaint Description – Provide a brief description of the concerns and issues of the Food product that comes under the FSSAI license or should be verified by the FSSAI.
Step 11 – Enter the Consumer Details: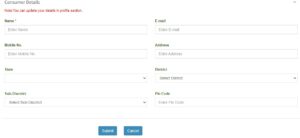 Name – Enter the Name of the Consumer (Your).
E-mail, Mobile Number, Address (Optional) – Enter your personal e-mail id, mobile no., and address (If you want, not compulsory)
Select State, District, Sub-District (tehsil), and Enter the Pin code.
Step 12 – To submit your online complaint form to FSSAI, Click on the "Submit" button. Note down the Ticket Number (Complaint Number) to track your grievance status.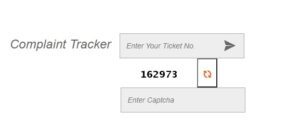 To track your Complaint, Visit the same given link above FSSAI. Navigate below, Enter the Ticket Number in the "Complaint Tracker" form. Enter the Captcha in the second column. Now, click on the arrow button to get the status of the complaint.
List of Food Business Operators on FSSAI Portal
Name of the Food Business Operator listed on The FSSAI Consumer Grievance Portal. You can get more details about these operators/companies by visiting their official websites. List of the Food Business Operators:
Other FBO – Other Food Business Operator (Not listed)
24SEVEN
Adani Wilmar Limited
Agro Tech Foods Limited
Amul
Amway India Enterprises
Barista
BASF India
Big Bazaar
Bikanervala Foods
Bisleri International Pvt Ltd.
Brightlife Care
Britania Industries Ltd.
Burger King
Chenab Impex Pvt Ltd.
Coca-Cola India Pvt Ltd.
Dabur
Diageo
Dr Oetker
DSM Nutritional Products India Private Limited
Ferrero India Private Limited
Field Fresh Foods
General Mills
Haldiram Snacks
Hardcastle Restaurants Pvt Ltd
Hector Beverages
Herbalife
Hershey's
Hindustan Unilever Ltd.
ITC Limited
Jubilant FoodWorks Limited
Kellogg India Private Limited
Kerry Ingredients
Marico Industries Ltd
Mars International India Pvt Ltd
Mars Wrigley Confectionery
Mccain
McCain Foods
Mondelez
Morde Foods Pvt Ltd
Mother Dairy
MTR Foods
Nestle India Ltd
Nutricia International Pvt Ltd
Parle
Patanjali
PepsiCo India
Perfetti Van Melle India P. Ltd
Pizza Hut
Sagar Ratna
Savencia Fromage & Dairy
Schreiber Dynamix Dairies Privates Ltd
Spencers
Swiggy
Taco Bell
Tata Chemicals Limited
Tata Global Beverages limited
Tetrapak
Tirupati Wellness
United Breweries Limited
Wendy's India
Zomato
Zydus Wellness
Help Desk Details for FSSAI License/Registration
Help desk contact details have been provided below to seek help or query while applying for an FSSAI license or any type of registration. Almost every state has its own help desk and you can check their authority and contact details from this file.
Click Out – FSSAI Help Desk
Trusted Source – Click Out to Know More: FSSAI
Frequently Asked Questions (FAQ) About FSSAI
Q. What is the customer care number of FSSAI to register complaints about Food concerns?
A. The toll-free customer care number of FSSAI is 1800112100 and consumers can call on this number. If you have any other concerns regarding food products and their standard of quality, you should register an online complaint.
Q. How can I track my complaint on FSSAI?
A. If you have already registered your grievance on the portal of FSSAI, you can use the ticket number or reference number to track your complaint. Enter this number in the Complaint tracker (link is given above) and check the status.
Q. If my complaint is not resolved by the FSSAI authority then Where can I approach it?
A. We did not find any mentioned authority where we can lodge a grievance against the final decision of the FSSAI. You may approach the National Consumer Disputes Redressal Commission, or District Courts & Upper Legal Benches and check the eligibility of your case if it can be acceptable. If we find any source, you will get notified here.
Q. How many days FSSAI will take to redress grievances?
A. The time limit is not given by the FSSAI for the grievance redressal. It may take 15 to 30 days to get the first response from the Authority. Response mostly depends upon the reply or clarification of the Food Business Operator. If the resolution is unsatisfactory by FBOs then it may further take 15 days to get the final decision.