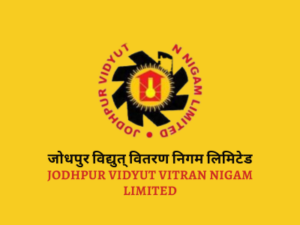 Jodhpur Vidyut Vitran Nigam Limited (JDVVNL) is owned by the state government of Rajasthan. JDVVNL serves in the western and northern districts of Rajasthan as an electricity distribution company in the public sector.
Almost all rural areas, villages, towns, and famous tourist districts (cities) of the Thar desert of Rajasthan get electricity supply from JDVVNL. Due to desert areas, tourist places, and industrial zones, the demand for electricity is increasing in these areas.
Notice - Be alert! Don't disclose the financial or banking details and

don't share OTP

with any customer care executive. Protect yourself from

Frauds and Scams

. Report to

Cyber Crime Bureau

or Call 1930 as soon as possible to protect your earnings and others.
Electricity Distribution and Service Circles (Divisions) of JDVVNL in Rajasthan:
Barmer
Bikaner District Circle
Churu
Hanumangarh
Jaisalmer
Jalore
Jodhpur City Circle
Jodhpur District Circle
Pali
Sirohi
Sri Ganganagar
JDVVNL is providing electricity services in the circles that are divided into divisions, If any customer wants to lodge a complaint about issues of electricity supply then they should know about their sub-stations.
Many electricity consumers of JDVVNL don't know how to register complaints related to issues of electricity services. If any customer wants to lodge a complaint then Complaint Hub has provided all the information and helpline numbers of JDVVNL where they can register their concerns.
If any customer is facing issues related to bill amount error, payment, new connection, electricity power supply outage, transformer, or any other then they can call on the customer care toll-free helpline numbers, or WhatsApp Numbers. All the helpline numbers are provided below.
You can also lodge an online complaint on the portal JDVVNL. You can e-mail, WhatsApp, or submit an online complaint form to get redressal of your grievances. All the verified information is provided below and visits the links to submit your issues.
Every data of JDVVNL is verified, and any customer can lodge a complaint on these helplines. Don't wait to raise your voice.
---
JDVVNL Electricity Complaint Redressal Time: Immediate (24×7) or may take 6 to 60 days (Depends on issues)
Grievance Redressal Fee: No Charges (₹0/-)
---
JDVVNL, Jodhpur Electricity Customer Care Helplines to Register Complaints about the issues of Electricity Services
Any customer care call on the toll-free customer care helpline numbers of JDVVNL Electricity Board to register complaints about the disruption of electricity supply or any other issues related to electricity services. Click on the numbers that are given below for an instant call.
JDVVNL customer care helpline numbers of electricity services:
Official Contact Numbers of JDVVNL Regional Circles:
Lodge Online Electricity Complaint of Electricity Board JDVVNL on The Official Portal
Every customer of JDVVNL can lodge an online complaint about the disruption or concerns of electricity services on the official portal. All the links of the Electricity Board of JDVVNL portal are provided below, click on them and submit the complaint form.
Don't forget to note down the complaint reference number to track the complaint status. It can also be used to lodge grievances in Consumer Grievance Redressal Forum (CGRF) under Rajasthan Electricity Regulatory Commission.
Lodge online electricity complaints on the portals of JDVVNL:
---
Categories of Electricity Complaint to JDVVNL
Complaints About:
Issues related to new JDVVNL electricity connection, meter upgrade, Issues under Saubhagya Scheme for new connection
Electricity Bill is not paid, rebate in the amount of bill, error in payment, any other bill and payment issues
Electricity supply issues, outage of power, street light issue, transformer, wire, or pole related complaints, failure of electricity supply
Accidents due to electricity, emergency issues, corruption, bribery, or any other complaints related to power theft, incentive, or any scheme by the government about electricity services
Any other complaints that come under the JDVVNL in Rajasthan.
---
Resource: