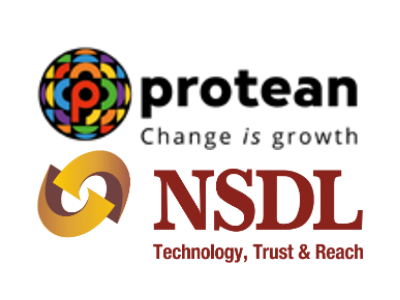 Tax Information Network (TIN) is a modernized system, established by Protean eGov Technologies Limited. TIN is an initiative of the Income Tax Department of India (ITD) for the various tax collecting, PAN, TAN, e-RI, and other services of direct taxes.
TIN provides facilities for services like:
Notice - Be alert! Don't disclose the financial or banking details and

don't share OTP

with any customer care executive. Protect yourself from

Frauds and Scams

. Report to

Cyber Crime Bureau

or Call 1930 as soon as possible to protect your earnings and others.
PAN: to apply online for a PAN Card, reprint the PAN card, inquiries, Aadhaar linking, online PAN verification, and resolution of grievances related to PAN services.
TAN: Online application facilities, reprinting the TAN allotment letter, and redressal of these service complaints.
E-RI: Register as an e-Return Intermediary and another status.
Other online and branch-based services of the income tax.
Citizens have to face many issues with the services of the PAN Card and TAN services of TIN. Some residents don't know the right procedure to get faster redressal of the issues. The official helpline numbers, e-mails, and online portals can be used to resolve complaints.
The Issues of PAN Card That Can Be Resolved by TIN:
Online application for new PAN card (Form 49A) (Individual or HUF).
New Pan application (Form 49AA) for Foreign Citizens
Issues with the reprint of PAN Card
Change/correction in PAN card
Issues with document verification
Other complaints
People can use customer care numbers, and e-mail, and also can write an application to the regional office of TIN. You have also an option to file an online complaint using the portal Protean.
Let us find out more about the helpline numbers and procedure to file an online complaint to the Tax Information Network of Protean. Follow all the instructions to file a grievance successfully about the issues of PAN card and TAN number allotment.
---
File PAN Card/TAN/TDS Complaint to the Tax Information Network of Protean
The Income Tax Department of India (ITD) has a system Tax Information Network (TIN) that is managed by Protean (e-governance). TIN is the portal where you can apply online for the PAN card, TDS, and TAN allotment. It also has a grievance redressal system.
You can call the call centers of TIN on the helplines and customer care numbers. Send an e-mail about the issues of PAN linking or personal detail corrections.
Residents can visit the regional office of TIN and UTIITSL for physical applications of PAN/TAN/TDS and lodge a grievance. Also, file an online complaint on the official portal for faster redressal of the issues.
Grievance Registration Fee & Redressal Time Limit:
Registration Fee: No Charges (0)
Redressal Time Limit: Up to 30 working days
⇒ To know more, Click out: PAN card processing time
The instructions and helplines are provided in the sections below, follow these instructions to lodge a complaint about the online PAN/TAN services.
PAN/TDS Customer Care Number
PAN/TDS call centers are available to provide resolution of the complaints by the customer care numbers. These call centers of the Tax Information Network are managed by Protean. You can use these helpline numbers of NSDL to raise your complaints about the PAN/TAN application, updating of details, and other problems.
Customer Care Numbers and E-mail of Tax Information Network (TIN) for PAN Card/ TAN/ TDS
Note: If your complaint is not resolved within the time limit and not satisfied then you may lodge an online grievance to CPGRAMS or approach the higher authorities at the official branches.
UTIITSL – All India Customer Care Numbers for PAN Services
You can use the all-India customer care number of UTIITSL for PAN applications (if applied on the UTIITSL portal). So, citizens may also visit the UTIITSL Offices to submit the physical form and complaint form.
Aykar Seva Kendra Helpline Numbers and E-mail
If any person has an issue with the income tax services and PAN card verification, or Aadhaar linking then you can call on the customer care numbers of Aykar Seva Kendra. You may e-mail your grievance about the PAN issues.
You may also register an online complaint about the PAN/TAN/ TDS services on the official portal.
---
Register an Online Complaint
Citizens can use the online portal of the Protean (Tax Information Network)/NSDL to register an online complaint about PAN/ TAN/ TDS services. Visit the link to lodge a grievance to get redressal of the issues like PAN application and other updation problems.
Links to File an Online PAN/TDS Complaint:
Other Options:
Procedure:

Visit the link to file an online complaint for PAN from the table above.
Select the 'Complaint' option on the Customer Care Form.
Fill out all the required information.
Select the category of the complaint (PAN, TAN, or TDS).
Provide a brief description of the issues related to PAN cards.
Enter the captcha and submit the online complaint form.
Note down the reference number to track the status of the complaint.
Note – If your grievance is not resolved or unsatisfied then you may approach CPGRAMS and the higher authority of the NSDL/TIN.
Online PAN and TAN Services:
Residents can apply for the new PAN by online application form on the portal TIN of NSDL/Protean. You can apply as an individual/HUF (Hindu Undivided Family) with some required documents.
The foreigners can also apply for the new PAN or TAN number for income tax or business purpose requirements in India. Also, track the status of the submitted form or apply for the correction in the PAN card (personal details) or TAN.
List of the Links for ONLINE Pan & TAN Services:
Note – If you don't get any link for the services that you are seeking, visit the official portal for Do or Don't Do instructions of TIN/NSDL.
---
Head Office and Branches of Protean/NSDL (TIN)
You may approach the head office or the regional branches to file a complaint about PAN/TAN services. Also, residents can apply for the new PAN card/TAN by physical forms at these offices of the Tax Information Network of Protean/NSDL.
Address and Contact Details of TIN/NSDL Offices:
TIN Head Office, Mumbai
Address:
Times Tower, 1st Floor, Kamala Mills Compound, Senapati Bapat Marg, Lower Parel, Mumbai, Maharashtra, PIN – 400013.
Branch Offices
1. New Delhi
Phone No.: 01123705418; 01123353817
Fax: 01123353756
Address:
409/410, Ashoka Estate Building, 4th floor,
Barakhamba Road, Connaught Place,
New Delhi 110001.
2. Chennai
Phone No.: 04428143917; 04428143918
Fax: 04428144593
Address:
6A, 6th Floor, Kences Towers,
#1 Ramkrishna Street, North Usman Road,
T. Nagar, Chennai – 600017.
3. Kolkata
Phone No.: 03322814661; 03322901396
Fax: 03322891945
Address:
5th Floor, The Millenium, Flat No. 5W,
235/2A, Acharya Jagdish Chandra Bose Road,
Kolkata – 700020.
4. Ahmedabad
Phone No.: 07926461376
Fax: 07926461375
Address:
Unit No. 407, 4th floor, 3rd Eye One Commercial Complex Co-op. Soc. Ltd.,
C. G. Road, Near Panchvati Circle, Ahmedabad,
Gujarat– 380006.
---
Types of PAN/TAN Issues
PAN Application Issues: Name, date of birth, address, mobile number, and parent details correction or updation, new PAN application and document verification issues, Aadhaar verification/linking, payment or transaction issues, and other problems.
TAN Application: Number allotment issues, personal or business details issues, and other problems of TAN during submission of the new application or correction/updation form.
Other Issues: Any issues that occur in the services of Tax Information Network by Protean/NSDL like e-RI, Aadhaar linking with PAN card, and issues with the registration for the Income Tax.
---
References