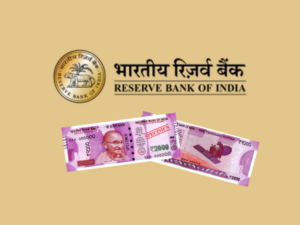 According to the press release, 2023-2024/257 of Reserve Bank of India, the ₹2000 denomination banknote will be no longer a legal tender after September 30, 2023. Before this, people can deposit and/or exchange the ₹2000 banknotes from all banks and exchange facilities, regulated by RBI.
Some important features of the press release with ₹2000 exchange rules :
Notice - Be alert! Don't disclose the financial or banking details and

don't share OTP

with any customer care executive. Protect yourself from

Frauds and Scams

. Report to

Cyber Crime Bureau

or Call 1930 as soon as possible to protect your earnings and others.
Under the "Clean Note Policy" of the Reserve Bank of India, ₹2000 denomination banknotes will be withdrawn from circulation
The banknotes in ₹2000 denomination will continue to be legal tender until September 30, 2023, or as notified by the central bank
Bank account holders or any person who owns ₹2000 banknotes, may deposit them into their bank accounts and/or exchange them at any bank branch
From May 23, the exchange of ₹2000 banknotes can be made upto a limit of ₹20,000/
The notes can also be exchanged at the 19 Regional Offices (ROs) of the RBI
Exchange of ₹2000 banknotes can be made through Business Correspondents (BCs) up to a limit of ₹4000/- per day (per account holder)
You should know that RBI has not given any notification about the required documents or identity proof to exchange the ₹2000 banknotes except for some KYC norms. You can directly monetize your notes with other notes from respective exchange facilities or branches.
Facts about ₹2000 denomination banknote:
Introduced in November 2016 under Section 24(1) of RBI Act, 1934 (After demonetization)
Printing of ₹2000 banknotes was stopped in 2018-19
According to RBI, only 10.8% (₹3.62 lakh crore) of Notes were in circulation on March 31, 2023
As per the notification, the printing of ₹2000 banknotes was stopped in 2018-19 due to enough availability of banknotes in other denominations (₹500, ₹100, ₹50, etc.). This action is taken under the Clean Note Policy adopted by RBI to ensure the availability of good quality banknotes within public space. Also, this helps to eliminate black money and counterfeit currency notes.
₹2000 Denomination Banknotes – Withdrawal from Circulation; Will continue as Legal Tenderhttps://t.co/2jjqSeDkSk

— ReserveBankOfIndia (@RBI) May 19, 2023

Have any doubts about the legal tender of the ₹2000 banknote? Need not worry. The Notes will continue to maintain its legal tender status. Also, remember that you can continue to use ₹2000 banknotes for your day-to-day transactions/payments until September 30, 2023. Before the threshold date, deposit or exchange your notes.
Except for some compliance with extant Know Your Customer (KYC) norms and other applicable statutory/ regulatory requirements by the banks or Regional Offices of RBI, you may deposit the Notes in your bank account without any restrictions.
Refused to Exchange/Deposit ₹2000 Notes?
Complain to Banking Ombudsman, RBI: If any bank is refusing to exchange or deposit the ₹2000 denomination bank Notes, you have the right to lodge a complaint with the Nodal Officers of the bank. Further, you can lodge a complaint online to the Banking Ombudsman, RBI under the Integrated Ombudsman Scheme of Reserve Bank of India, 2021. Visit the link below to raise your concern.
Click: File a complaint to Banking Ombudsman, RBI
Still, have dissatisfaction? You should visit the nearest regional office (RO) of the Reserve Bank of India and submit a written complaint to the Grievance Redressal Cell. Don't forget to provide relevant facts and supporting information to resolve your disputes.
For more details, read the FAQs released by the Reserve Bank of India to clarify your doubts.