About: The Directorate of Public Grievances (DPG) in the Government of India's Cabinet Secretariat helps in obtaining responses to unresolved grievances regarding some Central Government Departments and Organizations.
DPG can assist you in obtaining a reply and resolution to your complaints from the concerned department or organization.
Notice - Be alert! Don't disclose the financial or banking details and

don't share OTP

with any customer care executive. Protect yourself from

Frauds and Scams

. Report to

Cyber Crime Bureau

or Call 1930 as soon as possible to protect your earnings and others.
Complaints relating to the following matters are not within DPG's purview:
Related to Policy matters
Related to Commercial contracts
Related to Decisions involving court cases judgment/decision or matters pending in Court
Related to Service matters (excluding payment of terminal benefits like gratuity and GPF)
Frivolous complaints
Grievance Fee – 0/– (No charges)
Complaint Redressal Time: 15 Working Days (Average) after receiving the complaint
If you had not registered any complaint on Centralized Public Grievance Redress and Monitoring System then visit CPGRAMS to lodge a complaint.
Important DPG Portal Links for Grievance Redressal or Complaint Registration
If any person wants to lodge a grievance to DPG then you can visit these links and can fill out the complaint form.
Mailing Address, if you want to Submit your grievance by post or offline or in DropBox:
Procedure to Lodge Grievance to DPG:
Step 1: Visit this link of DPG: Click here
Step 2: Select the lodge grievance from the left side and click on this link.
Step 3: Select the Sector of grievance.
List of the sectors to lodge grievances to DPG:
Banking
CGHS
Civil Aviation
Education
ESI Corporation
Insurance
National Saving Scheme
Passport Authority
Petroleum and Natural Gas
Posts
Provident Fund
Railways
Transport & Highways
Shipping
Telecommunication
Tourism
Urban Affairs & Employment
Youth Affairs
Step 4: Enter the date of cause of grievance. and choose the options.
Step 5: Choose yes for the concerned authority and choose no for any tribunal and court approach.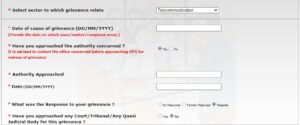 Step 6: Enter the grievance description within 4000 characters. Provide the details of your grievance that is not resolved by the concerned department or are unsatisfied with the resolution.
Step 7: Enter your personal details in the personal details section of the complainant. (Name, Address, Mobile Number, Residence address, E-mail, and other details)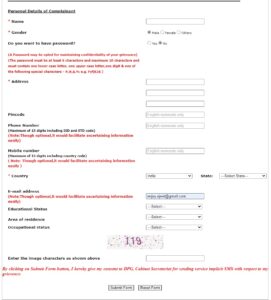 Step 8: Click on the submit form. Take the reference number to track the status of your grievance.
Need More Information? Visit: Trusted Source – Public Grievance Office
Required Details for Redressal of Complaints
Provide details of grievance with copies of related documents.
Details of earlier attempts and resolved grievances by the grievance redressal mechanism of the department.
Information of filed any appeal against any previous decision of the organization or department, before any court, tribunal, or consumer forum.
Include the identity and postal address, e-mail address, and telephone/mobile number.
Mandatory to put your signature or thumb impression on the letter.
The postal address of DPG or the procedure for lodging a grievance online is available below.
The procedure of Redressal of Complaints/Grievances
DPG will check and review the aspect and gravity of the complaint. It will refer it to the concerned departments.
Based on this, it seeks a reply from the department or organization or transfers the grievance who direct deals with the matter. (Departments reply within 30 days)
This process takes 15 working days of receipt of the grievance.
After the completion of the process, you will get an e-mail with details of the redressal of grievance and actions that are taken on your complaint.
The Following Central Government Ministries, Departments, or Organizations are under DPG's purview for complaints:
Complaints Related To:
Indian Railways
Posts Office of India
Telecom Sector

Bharat Sanchar Nigam Limited (BSNL)
Mahanagar Telephone Nigam Limited (MTNL)

Urban Development

Delhi Development Authority (DDA)
Land and Development Office (LDO)
Central Public Works Department (CPWD)
CGEWHO
Directorate of Estates
Directorate of Printing
The Department of Publications
The Ministry of Urban Development

Petroleum and Natural Gas

Balmer Lawrie and Co Limited
Bharat Petroleum Corporation Ltd.
Bongaigaon Refinery & Petroleum Ltd.
Cochin Refineries Limited
Engineers India Limited
Gas Authority India Limited
Hindustan Petroleum Corporation Ltd.
Indraprastha Gas Limited
Indian Oil Corporation
Lubrizol India Ltd.
Madras Refineries Limited
Numaligarh Refinery Limited

Complaints related to Civil Aviation

Air India
The Airports Authority of India
Shipping

Road Transport & Highways

The National Highways Authority of India
Tourism

Public Sector Banks

Bank of Baroda
Bank of Maharashtra
Canara Bank
Central Bank of India
Corporation Bank
Indian Bank
Indian Overseas Bank
Industrial Development Bank of India Ltd.
National Bank for Agriculture and Rural Development
Oriental Bank of Commerce
Punjab National Bank
Small Industries Development Bank of India
State Bank of India
Syndicate Bank
UCO Bank

Public Sector Insurance Companies

GIC of India
Life Insurance Corporation of India
National Insurance Company Ltd.
The New India Assurance Company Ltd.
The Oriental Insurance Company Ltd.
United India Insurance Company Ltd.

National Saving Scheme of Ministry of Finance
Employees' Provident Fund Organization
Regional Passport Authorities of India        
Complaints related to Central Government Health Scheme
Central Board of Secondary Education
Complaints related to Kendriya Vidyalaya Sangathan
the National Institute of Open Schooling
Navodaya Vidyalaya Samiti
Complaints related to Central Universities
Scholarship Schemes of the Ministry of Education
Deemed Universities (Central)
ESI Hospitals and Dispensaries are directly controlled by ESI Corporation under the Ministry of Labour
Youth Affairs
To know more and want to complain about a specific department or organization click on the concerned link and get details to lodge a complaint in one click.
Please provide your valuable rating and review of the guideline that is provided on our website.
Frequently Asked Questions (FAQ) about the Services of the Directorate of Public Grievance (DPG)
Q. How many days does DPG take to resolve the grievance?
A. It may take 30 days after receiving the application form of your grievance.
Q. Which type of complaint does DPG accept?
A. DPG accept the complaints of the public sector or department that comes under its purview. You can check the above list of departments.
Q. Is it necessary to first lodge a complaint in the concerned department before approaching DPG?
A. Yes, you must have to file a complaint in the concerned department then if your complaint is not resolved or unsatisfied. You can lodge a grievance to DPG against the concerned department that comes under DPG.