The Securities and Exchange Board of India is a non-statutory body of the Government of India. SEBI was constituted in April 1988 to regulate securities and stock market activities, promote investment & development, and protect investors in India.
The basic functions are described in the preamble of SEBI as "…to protect the interests of investors in securities and promote the development of, and to regulate the securities market and for matters connected therewith or incidental thereto."
Notice - Be alert! Don't disclose the financial or banking details and

don't share OTP

with any customer care executive. Protect yourself from

Frauds and Scams

. Report to

Cyber Crime Bureau

or Call 1930 as soon as possible to protect your earnings and others.
Many investors face the issue of the transfer of securities, non-payment of dividends, and stock market-related. The complaints can be unsatisfactory responses from the companies concerned, not satisfied with the complaint resolutions of NSE & BSE, and many other investments and securities & bonds related complaints.
You can register complaints about issues related to registered intermediaries with SEBI, frauds, fake companies' investments, Demat accounts, Exchange and brokerage, mutual funds, and related to its services. SEBI has provided an online portal SCORES to take the grievances of the investors and companies.
---
Complaint Registration Fee & Redressal Time Limit of SEBI:
⇒ Registration Fee: No Charges (0)
⇒ Grievance Redressal Time: 7 to 30 working days.
SEBI has provided helpline numbers, e-mails, and online portals where you can register an online complaint to get faster redressal of the issues regarding the services of security markets.
---
Helplines of SEBI to File a Complaint to the Securities and Exchange Board of India
SEBI (Securities and Exchange Board of India) has provided various helpline numbers for the investors where you can call to get help & instructions to get redressal of your issues. You can also register your complaint by providing appropriate information about the issue or problem that occurred.
The steps are simple, just call the helpline numbers or customer care numbers by clicking the numbers below. Select the language and talk to the customer care representative. Provide all the required information and description of the incident or issue.
Helpline Numbers & Toll-Free Customer Care Numbers of SEBI:
Note – If you do not get a satisfactory response then file an online complaint on the SCORES platform. Follow the instructions below for registration of online grievances.
Tips – You may also use the portal of CPGRAMS to lodge an online grievance about the department or ministries of the Government of India.
---
Register Online Complaints to SEBI on SCORES
SCORES is an online grievance redressal platform of SEBI where investors can register an online complaint about the issues or problems related to securities and investment services & companies. SEBI regulates and protects investors from fraud & unusual activities by registered companies & stock market manipulations.
Be aware of your rights as an investor and also explore legal solutions to financial and investment problems. You can use the information from the sections below to lodge an online complaint.
Important Links of SEBI to Lodge an Online Complaint:
Note – E-mail '[email protected]' for complaints against Sahara India Real Estate Corporation Ltd and Sahara Housing Investment Corporation Ltd.
E-mails for Query/Suggestions and Companies Updates on SCORES:

Procedure: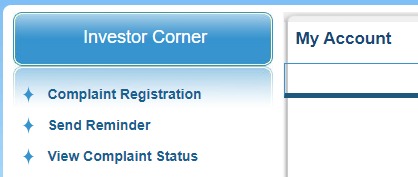 Visit the above link and register an account on the SCORES of SEBI.
Login using the registered credentials.
In the investor's corner, click the complaint registration.
Fill out the required information (Must fill in the red starred details).
Provide the complaint details after selecting the category.
Enter the details of the company (If lodged a complaint to the concerned company).
Select and fill out the appropriate details and upload the documents (If asked).
Finally submit it and note down the reference number to track the status of the complaint.
You can use this information to track the status from the above table and also can send a reminder if your complaint is pending.
Note – For complaints about finances, banking, NBFC services, and other primary dealers, approach the Ombudsman of RBI (Reserve Bank of India) to file an online grievance.
Useful Online Services of SEBI for the Investors & Companies:
In the filings, you can use services like – processing status, public and rights issues, debt offer documents, takeovers, mutual funds, buybacks, and many other online services of SEBI.
Reports & Statistics provides information about research, reports, annual accounts, statistics, disclosure of public interest, information to the public on complaints, notices for meetings on schemes, and many other important details.
Other Options:
Visitors can learn more about the services by visiting the official website of SEBI where you can explore all the available information. We have only important and useful details for the common people.
---
Categories of Complaints on SCORES of SEBI
Listed Companies/ Registrars & Transfer Agents/ Non-Demat and Remat
Listed Companies – Refund/Allotment/ Dividend/Transfer/ Bonus/Rights/ Redemption/Interest. Pre-listing/Offer Documents (Shares), (Debentures & Bonds) and delisting of securities.
Listed Companies – Buyback of securities, Takeover/Restructuring, Corporate Governance/Listing Conditions, Minimum Public Shareholding, and Financial Statement Fraud.
Registrars & Transfer Agents, and Non-Demat/Remat.
Brokers/Stock Exchange
Stock Brokers – Unauthorized trades/ misappropriation, payment/ delivery, services, documents, and other issues.
Portfolio Managers – Delay or non-receipt of payment, delay in refund of margin payments, non-settlement, issues of margin deposits & contract notes, billing and account statements.
Portfolio Managers – Non-receipt of Agreement copies, Unauthorized trades, misappropriation of clients' funds/securities, excess brokerage, order execution issues, IPO and other related complaints.
Stock Exchanges – Bombay Stock Exchange Ltd, Calcutta Stock Exchange Ltd, India International Exchange (Commodity Exchange), India Commodity Exchange Ltd, Metropolitan Stock Exchange Limited, and Multi Commodity Exchange of India Ltd.
Stock Exchanges – NSE IFSC Limited Commodity Exchange, National Commodity & Derivative Exchange Limited, National Multi Commodity Exchange of India Ltd, and National Stock Exchange of India Ltd.
Commodity Exchanges – Issues about arbitration, Assaying / Testing, Delivery & Settlement, Exchange Administration, Margin / Imposition of penalty, and Price volatility/price manipulation.
Commodity Exchanges – Related to Quality of goods delivered, Refund of Margin, Trading, Warehouses / Warehouse Service Providers, and other issues related to commodity exchange.
Depository Participants/ Depository
Depository Participants – Issues about Account opening, Demat/Remat, Transaction Statement, Improper Service, Charges, Delivery Instruction (DIS), Manipulation/ Unauthorized Action, Closure of account, and other depository participants issues.
Issues and problems with the depository. Provide details of the company concerned or depository with the details of the claim.
Mutual Funds
Issues – Delay/Non-receipt of dividend on Units, Interest on delayed payment of Dividend, or Redemption Proceeds.
Non-receipt of – Statement of Account/Unit Certificate, Annual Report/ Abridged Summary, and Annual Account.
The discrepancy in the statement of account, wrong or unauthorized switch between Schemes, deviation from scheme attributes, wrong or excess charges/load, and non-updating of changes viz. address PAN, bank details, nomination, etc.
Other Entities and Issues
Entities – Collective Investment Scheme, Merchant Bankers, Debenture Trustee, Bankers to an Issue, Credit Rating Agencies, Custodian of Securities, and Venture Capital Funds.
Other Entities – KYC Registration Agency (KRA), Alternative Investment Fund, Infrastructure Investment Trust, and Real Estate Investment Trust.
Manipulation issues – Price/Market Manipulation, Insider Trading, and Complaints pertaining to commodity derivatives.
Investment Advisors, Research Analysts, and Fake documents & Forged signatures related to and other issues that are concerned with SEBI.
---
References